Spill Containment - Drip Berm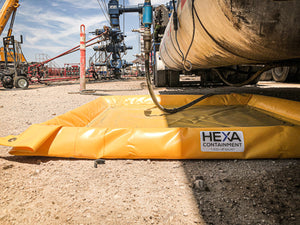 The Drip Berm, often called a "Duck Pond", is flexible and perfect for spill containment on the go. Foldable, The Drip Berm can be easily stored, quickly deployed and is the perfect containment for a wide variety of applications. The Drip Berm has angled foam walls available in 4" or 6" heights and is offered in a wide variety of sizes, shapes and materials.

Some of the common uses for Drip Berms are:
Small equipment – placed under trash pumps, hydraulic pumps and other small equipment.
Temporary storage – placed under paints, cans and small totes on your facility or job site.
Drip containment – Placed under flanges, valves, hose connections, barrels and chemical totes.
Maintenance – Used to place under equipment being serviced in the field by mechanics.
Manufactured in the USA, careful consideration has gone into the design of our foam wall berms, offering a quality containment solution, designed to contain every drop.